Mark Girouard —
Obituary

7th October, 1931 – 16th August 2022


The Trust is mourning the loss of our Patron and first Chairman, Mark Girouard, who died on August 16th, 2022.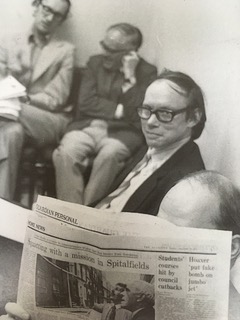 Mark, with his friends Elizabeth and Peter McKay, Dan Cruickshank and Colin Amery, realised the threat that a booming property market and ambivalent authorities posed to the preservation of our historic buildings in the mid-1970's. Rather than form another lobbying group, the friends resolved to form a trust, to acquire, repair and bring back into use historic buildings that other bodies viewed as commercially unviable.
Mark had long had an interest in the early Georgian buildings of Spitalfields, at that stage at risk of imminent demolition by developers. By nature a modest, self-contained man, he was so galvanised by the imminent destruction of the area that he joined his friends in taking direct action, first buying and rescuing a dilapidated house at 4-6 Fournier Street, then gathering a broader group together, who squatted the derelict and partially demolished buildings in Elder Street to prevent the wrecking balls moving in. It was Mark who enlisted the help of his godfather, Sir John Betjeman, to grab the press attention that their protest needed and who with others negotiated the purchase of the buildings from the developer. Through their actions the historic buildings for which Spitalfields is now renowned began to be saved.
Mark's broader influence on the preservation and interpretation of our architectural history cannot be over-emphasised. An eminent architectural historian, with an easy writing style backed-up by academic rigour, he made architectural history accessible to a broad constituency. Mark changed the way in which historic buildings were interpreted, shifting the emphasis from those who designed them towards the way in which the buildings were used and how that use affected their form and development. His work was and remains highly influential on the way in which historic buildings, especially English country houses, are presented and interpreted.
Without Mark and his friends, the Spitalfields Historic Buildings Trust would not have been founded. To this day, we remain the largest and possibly most successful buildings preservation trust, and are at the vanguard of regenerating deprived areas through bringing their historic buildings and townscapes back into use. None of that would have been possible without the foresight, innovation and determination of our founding members, of whom Mark was key. We are deeply saddened by his loss, but remain thankful for all that he did and was.
Our thoughts are with the Girouard family at this sad time. They have kindly requested that any donations in Mark's honour should come to the Spitalfields Trust or to SAVE. Should you be in a position to do so, a donation to the Trust in his memory can be made online by clicking here, or sending a cheque made payable to the Spitalfields Historic Buildings Trust to 18 Folgate Street, London E1 6BX. If you are a UK tax payer, we would be grateful if you would complete and return a Gift Aid form, which will increase the value of your donation to us at no additional cost to you. A copy of the form can be accessed here. Thank you.